[Spoilers for episode 2 from here on out]
After the season premiere, you would expect a feud between the brawling southern men, Wade and George. They both realized they liked — in varying ways — the same woman. However, their rejection (a half-hearted one for Wade who opened in bed with Zoe again) brought them together like two peas in a pod, like a kindling fire, like a southern boy band who share a sizzling duet. Let's start with the biggest plot twister of the night, which surprisingly had little to do with the Zoe-Wade-George triangular romance.
Lavon: Nothing was seeming to happen of importance. So he thought Ruby, his ex-girlfriend from high school who arrived to take care of her grandpa, was up to something devious. But he couldn't quite figure it out. Then, after stressing for so long, he decided that he kinda liked her — or at least he played it coy with a blushing smile and shrug of the shoulders when Zoe asked what was going on. At the end, Ruby dropped a game-changing wrench in Lavon's easygoing life. She was going to run against him for Mayor, a spot that has never been contested before. Now these election instagrams from Scott Porter make so much more sense!
#hartofdixie Awkward Election Photo... instagr.am/p/PuhCSLPqLp/

—
Scott Porter (@ScottPorter) September 18, 2012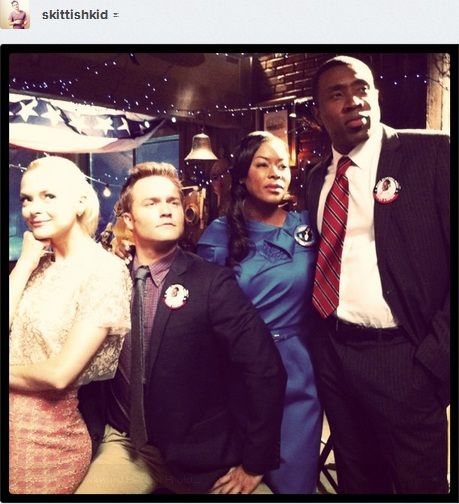 Fun Election themed drinks...#hartofdixie is clever... instagr.am/p/PuSVAvPqCx/

—
Scott Porter (@ScottPorter) September 18, 2012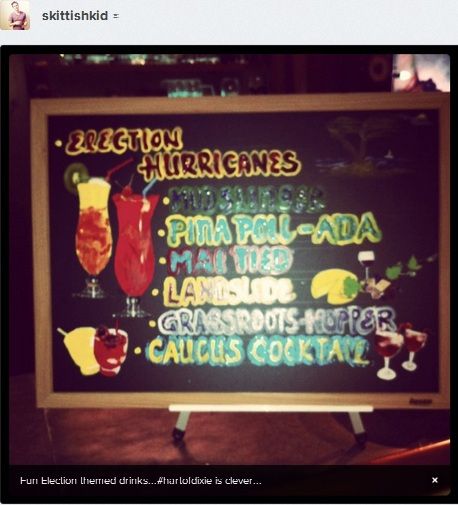 Zoe and Wade: Kudos to Rachel Bilson for her comedic expressions this week. Hilarious, especially with the marshmallows. Wade bets Zoe that they'll have sex in the next 48 hours, and Zoe takes the bet saying, "I have gone way longer than that without sex. I have gone years!" Lavon replies, "Yeah, that may be part of the problem." During Zoe's ban on sex, specifically the Wade kind, Rose enlists Zoe's help to find a headliner for Bluebell's first ever BlueBellapalooza. Funniest moments, hands down, involved Zoe, Wade and Rose traveling to LilyAnn Lanagen's house to convince her to perform at Bluebell. Just so happens, the musician is an ex-flame and bandmate of Wade's. When they finally arrive, LilyAnn strums a catching song degrading Wade with a simple lyric, "You disgust me! You disgust me! You disgust me!" But it's not all Wade's fault. LilyAnn is legitimately cray cray. Wade says, "in addition to being a nut-burger, she's also a hypochondriac."
Wade apologizes to LilyAnn, who then agrees to play, but once at the Bluebell festival, Zoe tells LilyAnn she might have nerve damage when the musician asks about a numb finger. She leaves. Immediately. And Wade and George take the stage together as her replacement. Not complaining there. Did anyone else notice how Wade looked especially buff this episode — like buffer than buff, but maybe that was just me wishing that Zoe decided to commit to him. Instead, she had the realization that she sent LilyAnn away on purpose so Wade couldn't bed another woman — and she wished George would do without women too (unless that woman was her, of course). The first one, I actually could understand. The second doesn't make much sense considering just last episode Zoe pushed George to date other people. Who's hoping Zoe will make up her mind concerning matters of the heart?
George: Oh George. Poor, poor, curious George. His puppy-dog naivety this episode was adorable and ever so endearing. Wade took the little baby bird under his wing to teach him how to reel in the ladies. A team of hot volleyball players were rolling into town, and he told George all he had to find a one-night stand was to find a woman at the bar drinking Chardonnay, hit C-7 on the jukebox and slow dance — the deal done. Surprisingly, Wade's plan worked for George. After a rocky start — his pick-up line being "I am a lawyer" — a woman was ready to kill her loneliness with Mr. Tucker. C-7 must have been one powerful country song. [If anyone made out the artist, please share in the comments!] Of course, Lemon foils his plans. Sort of. She mopes in a corner after being fired by the Rammer Jammer and accidentally poisoning her dad's girlfriend with seafood. He approaches and that ends all ties with the lonely beauty at the bar. Poor George. But all is not lost. Being the headliner at BlueBellapalooza brought plenty of groupies — to Zoe's ultimate dismay. Should George move on? His bashful approach to romancing women converted me. I'm a George fan now. Yep, I said it.
Lemon: Lastly, Lemon works at the Rammer Jammer in hopes of reclaiming her independence that her father has squashed throughout the years. Her uniform: a Stepford Wives-style apron cinched at the waist. Not surprisingly  she's a horrible waitress, refusing to touch half-eaten plates of food and orders customers to keep their elbows off the table. Why doesn't someone fire her then? Well, everyone's scared. Have you seen Lemon glare? It could wither an immortal rose bush (I believe those flowers belong to "Beauty and the Beast" — they do exist, I know it). Finally, the owner gives her the boot, and Lemon reclaims her dignity by holding her chin high and spinning away. But it takes a pep talk from George to ultimately kick her depression to the curb. Did you wish Lemon stayed a waitress a little longer? I was waiting for more apron variations. Darn. Maybe next time she can work in the healthcare industry. I'd like to see what she does to a pair of scrubs.
Are you all for the giant plot twist that involves election themed drinks? I'll take a Pina Poll-ada . Do you think George and Wade's sudden bromance will last? And does Lemon need a new man or does that go against her stand for independence?
A chance for your tweets to appear on the recap: From now on, I'll be adding fan tweets to the TV recaps. How does it work? Easy. Tweet your reaction using #CW69, and your tweet could end up on the recap the next day. Tune in next Tuesday for the live-tweets! See you then.
— Becca Ritchie